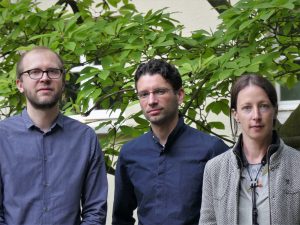 baustelle no5
Anna Kaluza – as, Julian Keßler – g, Johannes Held – dr
More than ten years ago, three musicians from Berlin, Cologne and Offenbach met with the order to record new music for the silent film Metropolis by Fritz Lang.
The performance as part of the Route of Industrial Cultures Rhein-Main was a great success with the audience: Baustelle No. 5 was born.
Without bass, only with saxophone, guitar and drums, musical collages are created on the basis of improvisation, which transcend genre boundaries fluently and take the listener into unfamiliar soundscapes.
The sound of the trio absorbs the Abstract Cool Jazz of the 50s and the rough garage sound of the 90s.